SARNET International Conference Showcases Rainwater Harvesting as a Sustainable Solution for Climate Resilience and SDG Achievement
The 2nd SARNET International Conference on Rainwater Harvesting, a Sustainable Solution for Climate Change Resilience and Achieving SDGs, was successfully held on May 17th and 18th, 2023, at the International Water Management Institute (IWMI) in Colombo, Sri Lanka. The conference brought together 24 international participants and 27 presentations were done by the professionals, academics, researchers, government, and private sector officials from various countries, including Sri Lanka, India, Bangladesh, Pakistan, Nepal, Iran, Saudi Arabia, Malawi, Uganda, and the Netherlands. The international conference was organized by the South Asia Rainwater Network (SARNET) in collaboration with Lanka Rain Water Harvesting forum (LRWHF) and International Water Management Institute (IWMI), with the support of USAID Sri Lanka.
The first day of the conference commenced with the inauguration ceremony, graced by esteemed guests, Mr. A.C.M. Nafeel, the Additional Secretary to the Ministry of Water Supply and State Infrastructure Development, and Mr. Kevin Dean, Director of the Office of Governance and Vulnerable Population at USAID Sri Lanka and Maldives. Dr. Mathew McCartney, Research Group Leader for Sustainable Water Infrastructure and Ecosystems at the International Water Management Institute, delivered an insightful keynote speech, while Mr. Ramveer Tanvar, popularly known as "The Pondman of India," captivated the audience as the guest speaker.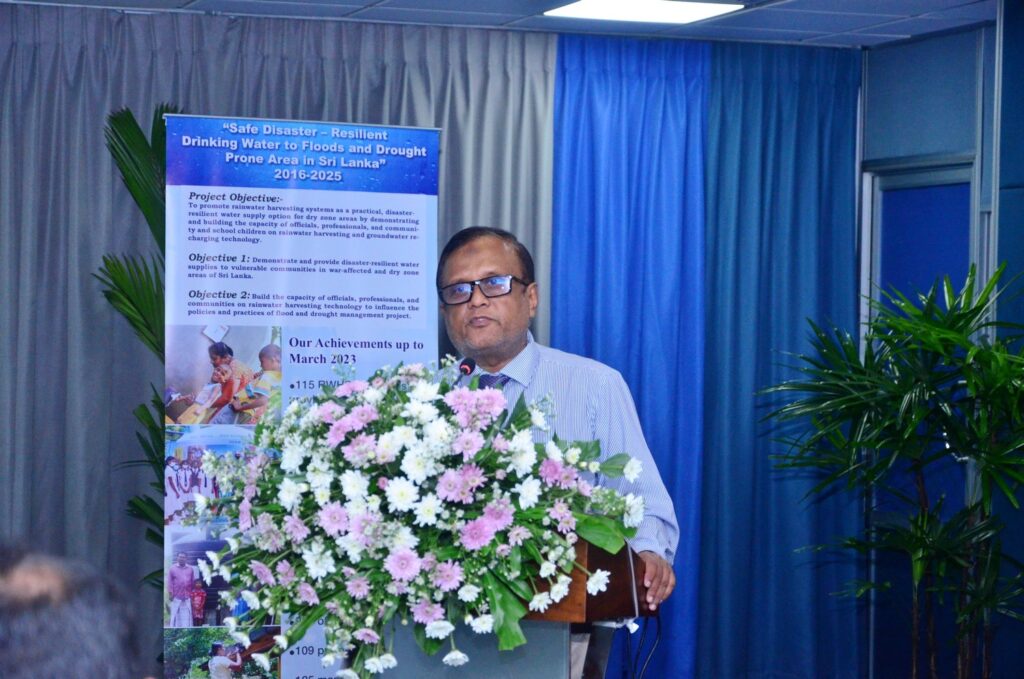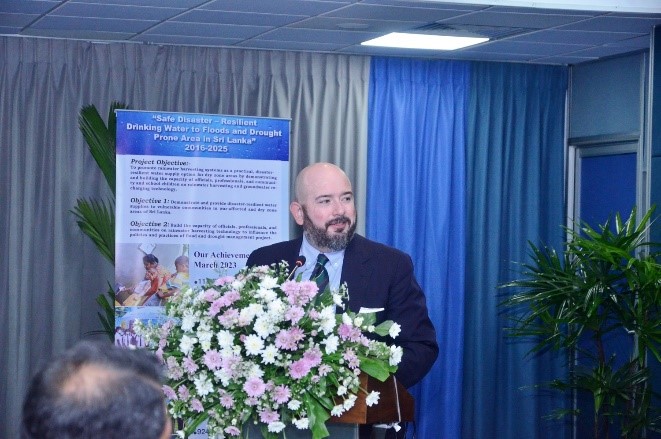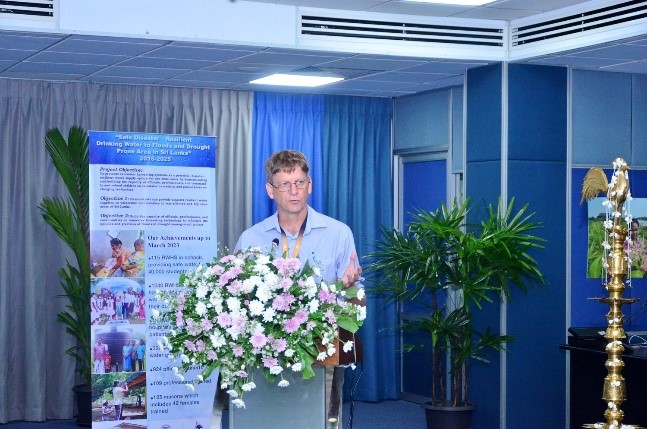 Dr. Mathew McCartney, Research Group Leader for Sustainable Water Infrastructure and Ecosystems at the International Water Management Institute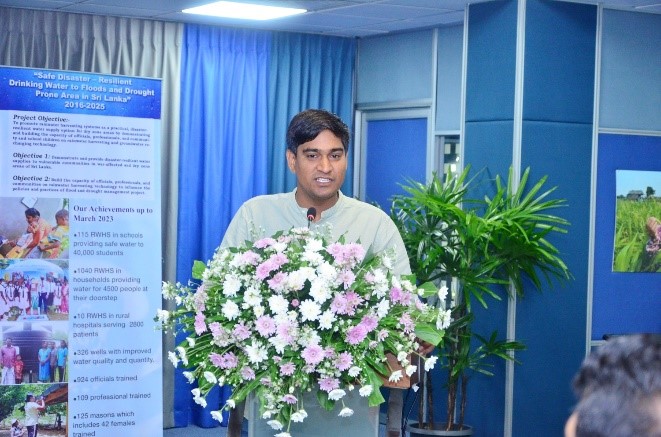 The technical session one started with the theme "Rainwater Harvesting as a Means of Achieving Safe Water and Sanitation at the Household Level." Following diverse presentations were delivered during this session.
Rooftop Rainwater Harvesting, Conservation, and Management Strategies for Water Sources in Sazek Valley, Bangladesh" by Mr. Shahadat Hossain from Bangladesh.
"Investigation of Rainwater Quality to Evaluate Its Suitability for Drinking" by Ms. H.W.G.N.M.B. Weerasinghe from Sri Lanka (joining virtually).
"Rainwater Harvesting as a Mitigation Measure for CKDu: A Case Study from Sri Lanka" by Ms. Wasantha Padmini from Sri Lanka.
"Harvesting Rainwater Using Calabash Cisterns" by Mr. Nethara Macphearson from Malawi.
"Techno-Economic Evaluation of a Multi-Media Vertical Flow Filter for Roof Water Harvesting" by Dr. Manoj P. Samuel from India.
"Pumpkin Tank Story" by Eng. Deva Hapugoda from Sri Lanka.
"Self-Cleaning Rainwater Harvesting Filter" and a poster on "Rainy Filter and Injection Well for Groundwater Recharging" from India, along with a presentation on "Farmland Rainwater Harvesting System" by Mr. Vijayraj Shisodya from India (joining virtually).
The technical session one was chaired by Eng. Syed Zaheer Hussain Gardezi from Pakistan, with Ms. Sony Pun serving as the rapporteur. The session provided a platform for fruitful discussions and exchange of ideas among the participants.
In the afternoon of day 1, the conference continued with Technical Session Two, focusing on the theme "Rainwater Harvesting in Urban Areas: Operational Policies and Institutions." This session delved into the policies and institutions required for the successful implementation of rainwater harvesting in urban settings.
"Promoting Rainfed Pond for Town's Water Supply System: A Case Study of Southwest Coastal Region in Bangladesh" by Md. Zahid Hossain from Bangladesh.
"Water Security – Rainwater Harvesting: An Urban Case Study" by Ms. Pradyna Thakur from India.
"Common Man-Centric Innovation to Harvest Rainwater in Borewells or Tanks" by Mr. Akash Varia from India (joining virtually).
"Rainwater Harvesting for Lawn Irrigation" by Dr. Erum Amir from Pakistan (joining virtually).
"Indigenous Knowledge of Floodwater Agriculture in Dry Regions of Iran" by Prof. J. Tabatabaee from Iran.
"Poster Presentation – Harvest the Rain, Sri Lanka" by Mr. S.M. Praveen Kavinda from Sri Lanka.
"Poster Presentation – Rainwater Harvesting at Usage Level Facts" by Mr. Sakib Imran Ali from Bangladesh (joining virtually).
"Spring Recharge: Hope for Midhill's Water of Nepal" by Mr. Lalmani Wagle from Nepal (joining virtually).
"Highlights of Rainwater Harvesting for Livelihood, Community, and Ecosystem Resilience in Nepal" by Mr. Ramdeep Sah from Nepal.
"Rainwater Harvesting for Modern Urban Projects: Case Studies of Groundwater Recharge and Alternate Water Supply Sources" by Dr. Saqib Nawaz from Pakistan.
Technical Session Two was chaired by Mr. M.M.M. Aheeyar from Sri Lanka, with Dr. Jos Raphael from India serving as the rapporteur. The interactive discussions following the technical sessions provided an opportunity for participants to engage in meaningful exchanges of ideas and experiences, fostering collaborations and expanding knowledge in the field of rainwater harvesting.
On the second day of the conference, the participants gathered for a recap of the previous day's events, which was presented by Dr. Tanuja Ariyananda, the convener of SARNET. This served as a reminder of the valuable insights and discussions that had taken place.
The technical session three of the conference focused on the theme of socioeconomic benefits and disaster risk reduction through Rainwater Harvesting (RWH). Presentations during this session shed light on the practical applications of RWH in various contexts.
Promotion of rainwater harvesting in earthquakes (2005) affected areas of Pakistan by Eng Zaheer Hussain Gardezi, Pakistan
Mitigating the climate impacts of water scarcity through "the Green Project" in the central Indian region, Nagpur district council of Maharashtra India, (video and poster included) by Eng. Nilesh Mankar, India
Reduction of poverty in rural villages in Sri Lanka by introducing groundwater harvesting by Mr Upul Wickramaratne, Sri Lanka
Screening of the video – Integrated Water Resources Management Project, Kanchan Nepal by Ms. Sony Pun, Nepal
Experience sharing of government programme implementation on nature-based solutions for climate change adaptation: a case of Kerala state, India by Dr Jos Raphael, India
Groundwater recharge using rainwater in the Badulla district of Sri Lanka by Prof Ms. Shanthi De Silva, Sri Lanka
Identification of suitable sites for traditional Pokhari water harvesting in mountain rural communities of the Himalayas- by Ms. Elenora Forzini, Nepal (joining virtually)
Rainwater harvesting for man-centricity of Jal Jeevan Mission (JJM)Project borewells case study in selected states of India by Dr. P. Sivaram and Dr. Vishnu Partheep Tej, India (joining virtually)
Poster presentation A sustainability tool of water security in dry zone schools – Kilinochchi District by Eng. Y. Thayaparan, Sri Lanka, presented by Mr Shanthasiri
The Technical Session three was chaired by Dr Sarika Kulkarni and Dr Manoj P Samuel served as the rapporteur.
Following the technical session, a panel discussion took place, with panelists Mr. Han Heijnen, Dr. Sarika Kulkarni, Mr. Rajindra Ariyanbandu, and Engr. Syed Zaheer Hussain Gardezi. The interactive discussion provided a platform for in-depth conversations on rainwater harvesting and its potential for addressing climate change and achieving sustainable development goals.
Furthermore, the conference included an experience sharing session by participants of the Residential Technical Training Programme on Rainwater Harvesting Storage, which had taken place from May 11th to May 16th, 2022, in Mahiyanganaya, Sri Lanka. Participants had the opportunity to share their learnings and insights from the training program, further enriching the conference discussions.
Towards the end of the conference, a certificate awarding ceremony was held to recognize the participants' contributions and achievements in both the technical training and the international conference. The conference concluded on a positive note, with participants leaving inspired and equipped with valuable knowledge and experiences to further promote rainwater harvesting.
The 2nd SARNET International Conference on Rainwater Harvesting was undoubtedly a significant event that highlighted the importance of rainwater harvesting as a sustainable solution for climate change resilience and achieving the Sustainable Development Goals (SDGs). The presentations and discussions showcased innovative approaches, research findings, and success stories, inspiring participants to continue their efforts towards effective rainwater harvesting practices. With the collective expertise and dedication of international participants, it is hoped that rainwater harvesting will be further promoted and implemented worldwide, contributing to a more sustainable and resilient future for all.